A new home for
Whatcom County's
performing arts
SYLVIA CENTER FOR THE ARTS
Sylvia Center provides affordable space for artists to rehearse, teach and perform, while also creating a central hub for arts audiences to discover and enjoy locally-created music, theater, and dance.
With your support, we are building a new home for Whatcom County's locally created performing arts by renovating a historic industrial building in downtown Bellingham into a new performing arts center!
Donate today and help create a new home for locally-created performing arts in Whatcom County!
UPCOMING EVENTS
---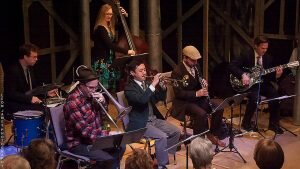 Whatcom Jazz Music Arts Center's weekly Wednesday night concert series brings the best local, regional, and national jazz musicians to Northwest Washington — check out March's schedule here.
Learn more >
Stay
Be the first to hear about upcoming events and the latest project developments.
(100% secure, no spam, no B.S., unsubscribe anytime.)